My father died in March and my uncle died in April. Both deaths were sudden, but not entirely surprising. My father and uncle lived, respectively, on the top two floors of a three-family house in an increasingly deteriorating part of Fall River, Massachusetts. My dad never remarried, and being that I'm the only child, clearing out his apartment was my responsibility. I'll probably recount the details of the experience here one day in the future, but for now I'll just state the obvious: It wasn't easy. Luckily I had the help of friends and family through most of the process. I couldn't have made it through the emotional and physical strain without them. The cleanup took roughly three months of trips back to Fall River to return with carloads full of my dad's belongings and all the ghosts that I inherited along with them. I made the last few trips alone, the very last to attend the joint interment of my father and uncle's ashes in a family plot.
The cemetery where most of my paternal family members are buried is in the Maplewood neighborhood of Fall River, one of the nicer parts of the dying mill town. That morning, I arrived a bit early and found myself driving around Maplewood trying to enjoy the sunny summer day despite the somber reason for my visit. Just blocks away from the cemetery I turned onto Lawton Street, the street that my father grew up on until being drafted into the army. When I was about three years old my father returned to Lawton Street when he and my mother bought a home next door to the one he'd lived in as a child. I parked in front of the house noting the ways in which it had changed since we all left it after the separation. Pale blue vinyl siding covered the yellow wooden plank siding and the fence in front was replaced with a gaudy tiled stone wall. Still I gazed through it into the past. I saw myself on the front porch peering into a cardboard box containing a box turtle that someone had left on our front steps. I saw my dad lying on the deep pile rug propped on over-sized living room pillows watching TV, bathed in its blue glow. I saw my mother walking in on a three-year old version of myself standing in front of her bedroom mirror applying and/or eating her lipstick. I remembered sitting at my desk under the Spider-Man poster on the eave wall in my bedroom. From this distance, the memories were mostly sweet.
I drove up the street a bit and slowed to catch a glimpse of the three family house my mom and I moved into after she and my father separated. Though the separation was a significant change for both of us, I now realize that my mother's choice to move four houses away from where her marriage crumbled was for my sake. I was able to continue attending school at A.S. Letourneau Elementary, the same school that taught my father reading, writing, and arithmetic years before. This move also meant that I'd be living a floor above Aaron, a neighborhood boy who became my best friend in the years to follow. Though it was probably hard on her, she made it as easy as possible for me.
The house looked like a smaller version of the one I kept in my memories, but otherwise just the same. I pictured myself on the cement steps warming myself by the steaming dryer vent one winter day. I thought of Aaron's father teaching me to ride a bike on the long driveway. I recalled Aaron's grandmother, the first floor landlord of the building, and the pleasant aroma of her cooking filling the stairwell between apartments. Perhaps it was this memory that prompted a grumble in my stomach turning my thoughts to the McDonald's just down the street on the main boulevard.
As a child, convenience dictated that a high ratio of the calories I consumed were warmed under the heating lamps of this McDonald's. It was an easy and inexpensive option for a single mom, and it certainly didn't help that I'd been programmed by Saturday morning advertisements to believe that food not packaged in a Happy Meal box and accompanied by a toy was likely poison. Similarly, weekend visits with my dad meant many trips to this neighborhood McDonald's both for nourishment and to collect the premiums being offered, especially the McDonaldland character glasses.
This particular McDonald's location was unique in that it underwent renovations in the early 80s which included the addition of a decommissioned Amtrak train car onto the facade of the building. The exterior of the train car was a sparkling polished chrome with yellow and red accents. The interior was accessible from the dining room, and offered additional seating options. When we were old enough to be venture beyond the safety radius of our house, Aaron and I would ride our bikes to McDonald's. Our reverence for the fine dining that we had come to adore only enhanced by the train car gimmick, as well as the addition of Chicken McNuggets to the menu. The McNuggets offered a new "exotic" menu item to broaden our already sophisticated palates. Though truthfully, I think it was that they mainly served as a delivery system for the McDonald's Sweet 'n Sour Sauce, which I'm convinced contains an addictive narcotic. With our bikes tilted against the walls of the train car, we'd sit inside digging our prizes out of our Happy Meals. My favorite prizes from those days were mini Playmobil play-sets and die-cast Hot Wheels cars. We'd ride back home with our Happy Meal boxes and prizes.

For health and ethical reasons, I've avoided eating at McDonald's most of my adult life. Admittedly, there have been moments of weakness and convenience. In this instance, it was the pure comfort of nostalgia that drew me to this particular set of golden arches. I believe that McDonald's sells far more nostalgia than actual food. Over 99 billion served, apparently. I felt deserving of such an indulgence after months of mournful trips back to my hometown. Years ago, I'd heard that the train car was to be removed and placed in a train museum, so it pleased me to see still in place as I pulled into the parking lot. Dulled and rusted, it is showing it's age, but then again so am I. Still, it's one of my favorite hometown landmarks.
Inside, the basic layout was as I remembered, only refaced with new fixtures and decorations. The removable item menu boards replaced with flashing, flat video screens. Seeing the modern updates reminded me of the scene in Back to the Future II where Marty McFly steps into the Cafe 80's, the former location of Lou's Cafe. Different but the same. Management has since sealed off the entrance to the train car but peeking through the divider revealed that it was serving as a provisional storage space.
At the counter, I ordered medium french fries and a soda to go. It was the same counter that I'd stood at with my father, my mother, or Aaron countless times. In that moment they were all there with me. I imagined my grandfather at a booth in the corner jawing with other people's grandfathers and drinking his coffee out of a Styrofoam cup as he did on so many mornings.
I exited with my food in hand peering out of the entryway window, through the giant golden arches printed on the glass. Out beyond I saw into the past. My old neighborhood. Maplewood. People who are gone. The ghosts of countless moments like overlaid sheets of vellum imprinted with a lifetime of memories.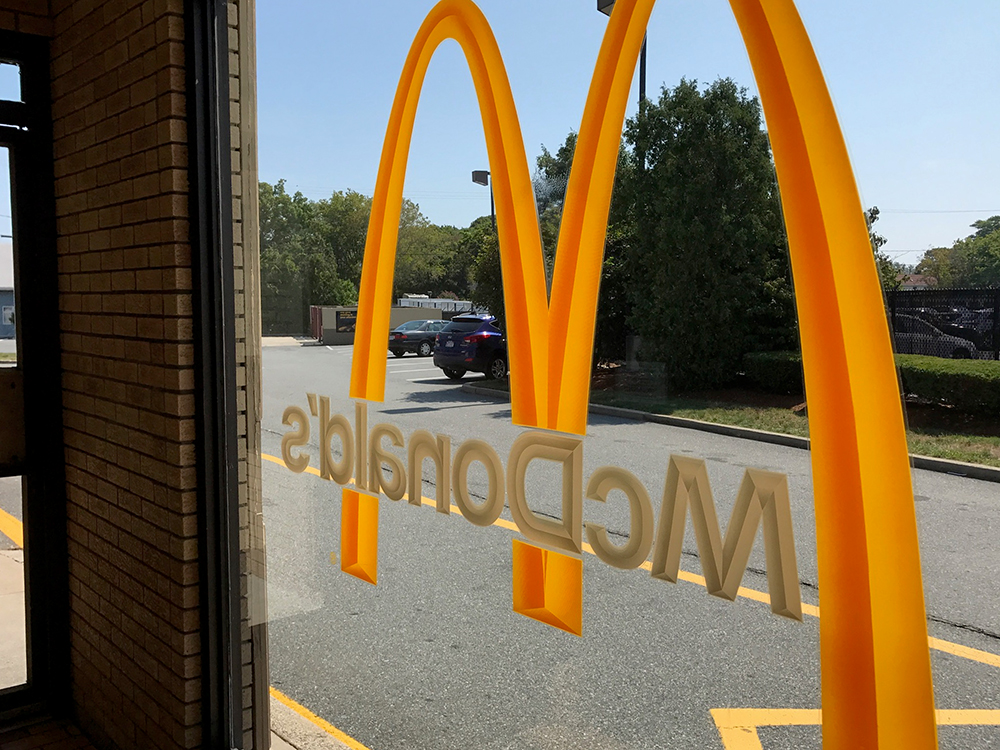 I sat in the parking lot and ate my french fries. They were warm, excessively salty, and ultimately comforting. I thought about sitting in my dad's electric blue Camaro parked in the very same lot tossing overcooked fries to the seagulls so many years ago. I finished my soda and set out for the cemetery to say goodbye to some ghosts.